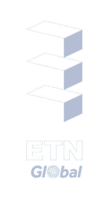 Dominique Orhon (Total), Member Of The Year 2017!
It is now a tradition. Every year during its Annual General Meeting, ETN rewards the commitment and dedication of one of its members' representative.
For 2017, it has been decided to honour Dominique ORHON, Turbomachinery Specialist (Total) for its active and precious contribution to various projects of ETN: Dominique Orhon is a member of the Project Board (which published the revised version of its R&D Recommendation Report in March), has been involved in the User Group initiatives, the Air filtration working group and the organisation of the IGTC 2016.
The two other nominees were Cath Goy, Team Leader – Gas turbine combustion (Uniper), who has been a proactive contributor to the work of the Board of Directors, the Conference Advisory Board and the Industrial Emissions Committee, and Sjirk van der Goot, Marketing & New Business Development (VBR Turbine Partners), for his valuable input to the User groups activities and his support and feedback on ETN's new initiatives.